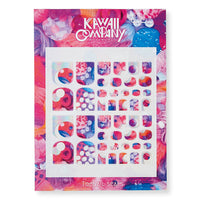 Colorful and Glittery Kawaii Toenail Stickers By Kawaii Company
¥1,900
For toenails, it's good to be a little aggressive in the color and design! Cute toenails make you feel happy inside!

Sebastian Masuda's atelier created the art for the toenail stickers. How about trying silver foil, aurora foil, or gold shimmer and making your feet gorgeous? Each design has a clear part to stick onto the nail, so you can cover the nail completely or let your favorite nail polish peek underneath. We recommend that you personalize the design to whatever you desire!

■ Set contents / 2 nail seal sheets (for about 2 times on both feet), 1 nail file
■ Material / Urethane resin
■ Size / Maximum seal: 1.9 cm in length, 1.7 cm in width Minimum seal: Approximately 0.6 cm in length, 0.7 cm in width
* The number of times of use varies depending on the size of the claw. * Cannot be used repeatedly.
* Please limit continuous use to 5 days.
色とギラギラと透け感がカワイイ つま先を彩るフットネイルシール

税込価格:2090円

足のネイルはちょっと強気でもいいよね!? つま先がカワイイとハッピーな気持ちに!

増田セバスチャンのアトリエで生まれたアートをフットネイルシールに。シルバー箔やオーロラ箔、ギラギラのゴールドラメを使って、足元をいつもよりゴージャスにしてみるのはいかがですか。デザインにはそれぞれクリアに透ける部分があり、素のつめを見せて透明感を楽しんだり、好きな色のポリッシュをベースに塗ってちら見せしたり、自分だけのアレンジを楽しむのもおすすめです。

■セット内容 / ネイルシールシート2枚(両足約2回分)、つめやすり1個
■素材 / ウレタン樹脂
■サイズ / 最大シール:縦約1.9cm、横約1.7cm 最小シール:縦約0.6cm、横約0.7cm
※つめの大きさにより使用回数が異なります。 ※繰り返しの使用はできません。 
※連続使用は5日間までにとどめてください。