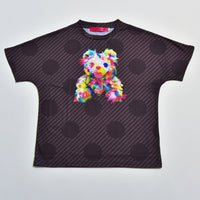 Material:100% polyester
Dimensions(approx.):
[M] Length 63 / 24.8 Width 50 / 19.7 Sleeve Length 31.5 / 12.4 [L] Length 70 / 27.6 Width 55 / 21.7 Sleeve Length 35 / 13.8
Sebastian Masuda popular teddy bear artwork Your Bear appears on a T-shirt for the first time! your bear artworks are stuffed animals designed at Sebastian Masuda atelier Lovelies Lab. Studio. 
The vivid and colorful teddy bear featured on this comfy polyester tee is themed after the work Your Bear No.21 on exhibit at Miami Young At Art Museum. It really pops out on this dot points and borders background print. The brand's name is printed on the backside.
Available colors : black / white sizes : M / L 

You can pair it with simple pants or salopette for a casual look, or you can go for a full colorful outfit ! You can wear it in almost any situations while enjoying the power of some colorful art !

Don't forget to check out our Colorful Rebellion/Gravity T-Shirts too !