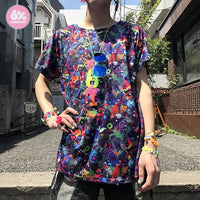 Neon Spectrum Big Tee
¥6,900
Material: 100% polyester

Size Chart (cm / in)

Length
【Small】68 / 26.8 【Medium】73 / 28.7 

Width
【Small】52 / 20.5 【Medium】58 / 22.8

Shoulder Width
【Small】50 / 19.7【Medium】52 / 20.5

Sleeve Length
【Small】14 / 5.5 【Medium】14.5 / 5.7

If neon colors, stars, jewels, and spectacular patterns are totally your thing, you've come to the right page! Part of the first range of clothing in 6%DOKIDOKI's dazzling Neon Spectrum pattern, the seriously trendy Neon Spectrum Big Tee is guaranteed to make its presence known in any outfit! Thanks to the indigo, black, and other dark colors within the eye-catching pattern, this cool tee looks great however you style it.

This unisex design is equally awesome on guys and gals, and it's available in sizes S and M! It's cute on top of a hoodie or paired with the matching skirt. If you're wondering how to accessorize a tee like this, its pattern features 6%DOKIDOKI necklaces and Lightning Heart rings, so they'd be the perfect match!