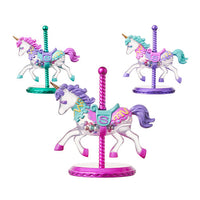 《My Merry-Go-Round》Creators' Glico Box By Sebastian Masuda
¥3,627
クリエイターズグリコ クリエイターズBOX 増田セバスチャン
税込価格:3990円

「ずっと夢見ていた自分だけのメリーゴーラウンド。木馬に乗って、どこへでも行こう。」

グリコ100周年記念商品 #クリエイターズグリコ に増田セバスチャンがデザインした《MYメリーゴーラウンド》登場。
透明なユニコーン木馬にカラフルなビーズが入った特別なおもちゃです。
本商品は3個入りセット。そのうち2個はこのセットだけの限定カラーです。

原型制作:仲井彩美

※おもちゃのみ。お菓子は入っていません。

内容・サイズ
パッケージサイズ:300×114×70(mm)     
おもちゃ本体サイズ:約62×63×40(mm)
Sebastian Masuda designed the toy 《My Merry-Go-Round》 for the special "Creators' Glico" product commemorating the 100th anniversary of Glico. This toy is a transparent unicorn wooden horse with several colorful beads inside.

"I've always dreamed of my own merry-go-round. Ride that wooden horse and go wherever you want."

This is the Creator's BOX, which contains only toys by your favorite creator. It contains three toys, including two special colors of "My Merry-Go-Round.
Contents and size
Package size: 300 x 114 x 70 (mm)     
Toy body size: approx. 62 x 63 x 40 (mm)