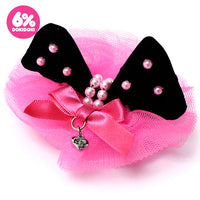 Kitten Frilly Tiaras
¥2,500
Material:tulle, plastic beads, metal wire, satin
Dimensions(approx.):
diameter:about 9cm|3.5in.
diameter:about 5.5cm|2.1in.

This Kitten ears looking ribbon is made of black velvet with pink tulle that give it a kawaii-sexy impression~ It has a clip on the bottom, pearls, and a 6% DOKIDOKI solid heart charm. Clip it to a ponytail!