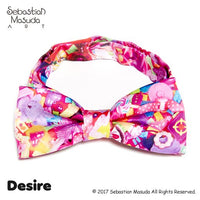 Colorful Rebellion Bow Tie-Desire
¥3,700
Trademark of Sebastian Masuda's coordinate - "bow tie" is finally out from Sebastian Masuda ART!

We will definitely recommend this to men's customer, but also for kids for dressed up coordinate will be cute too! Or it could be used as an accessory choker as well.

The size around the neck is adjustable widely. Small brand logo in double ribbon part is cute too.

Pink color based "Desire" matches any kind of jacket like black, brown, beige etc. Blue based "Daydream" matches more with deep navy, gray, or ivory. It should become an accent for some party or gala event fashion scene.

Enjoy matching coordinate with glass and hat as like Sebastian Masuda!