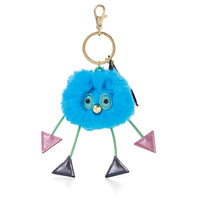 Swinkey Key Carm By KAWAII COMPANY
¥2,600
A monster that will be always with you in your bag.
"Swinky" is a monster friend with long round legs and a bit lost gaze. If you hang it in your bag, its sparkling legs will swing every time you walk,  giving you a fun feeling for sure. Each one comes with different fur and color, so if you collect a lot of them, they'll be super kawaii! A tag with a logo gives it emphasis.
Material / Polyester, synthetic leather, etc.
Size: 13-15 cm (length), 8-11 cm (width), 3 cm (diameter of key ring)
*Due to the manufacturing process of the product, there may be differences in expression.
カワイイカンパニースウィンキーチャーム
バッグにぶら~ん いつも一緒の相棒モンスター。
丸っこくて長い手足、どこかとぼけた表情のともだちモンスター"スウィンキー"。バッグにぶら下げれば、歩くたびにキラキラな手足がぷらぷら揺れて、楽しい気持ちになること間違いなし。それぞれ異なる毛並みとカラーリングなので、たくさん集めたらかわいさ満載!ロゴ入りのタグがアクセントです。
■税込価格:2,860円
■素材 / ポリエステル、合成皮革など
■サイズ / 縦約13~15cm、横約8~11cm、キーリングの直径約3cm
※商品の製法上、表情に差異が出る場合があります。