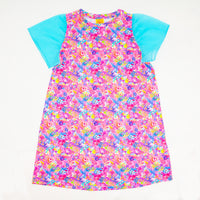 Organdy Sleeve Dress / Primal Pop Pastel
¥9,900
Material:100% polyester
Dimensions(cm)
Length (Front) 91
Length (Back) 93
Width 51.5
Sleeve Length 20.5
This simple cut exudes a sleek and semi-mature aura. The Primal Pop Pastel pattern is visible on the dress from every angle, with sleeves made of two layers of organdy. By layering the skirt belt on top of it, you can turn this into a look ready for the Kawaii runway. Also, the back of the dress has been made a bit longer so you can walk freely without caring too much about the length.
Using the artwork "Primal Pop 6%DOKIDOKI Mix" from Sebastian Masuda's Artwork. In this pattern, while reproducing the innocent and impulsive feeling of childhood, which is the origin of Sebastian's creation, a large amount of motifs that oneself and someone remembers are mixed and painted. A new series of 6%DOKIDOKI that goes back and forth between subculture and pop culture, filled with history and a new future.
Notice: The pattern will slightly differ in appearance due to the different cuts of the patterned fabric used, making each one extra special and one-of-a-kind!