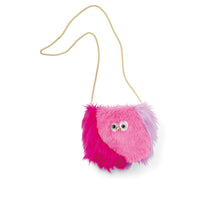 Follow Me Pochette By KAWAII COMPANY
¥5,300
A monster transforms into a pochette! ?
It looks like an ordinary fur bag at first glance, but it's actually a monster!
When you're going for a short trip or wearing clothes without pockets, take the Follow Me pochette with you. It is shaped like a pocket and can hold your minimum necessary items. Let's go out light with a monster friend that makes you feel good every time you touch it.
Material / Polyester, synthetic leather, etc.
Size: 17 cm (length), 20 cm (width), 5 cm (width)
Target age: 6 years old and up
Due to the manufacturing process of the product, there may be differences in expression.
カワイイカンパニー フォロミーポシェット

一見普通のファーバッグに見えて、実はモンスター!

ちょっとそこまで行くときやポケットがない服のときは、フォロミーポシェットをお供に。ポケットのような形のポシェットには、必要最小限の荷物が入ります。
ふれるたびに癒やされるともだちモンスターを連れて、身軽にお出かけしちゃいましょう。 
■税込価格:5,830円
■素材 / ポリエステル、合成皮革など
■サイズ / 縦約17cm、横約20cm、まち幅約5cm
※対象年齢6歳以上
※商品の製法上、表情に差異が出る場合があります。