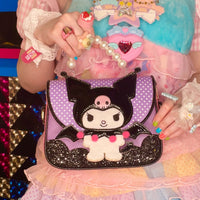 Kuromi Wings Bag By Irregular Choice
¥18,000
brand: Irregular Choice
leather: no
materials: fabric/pu
dimensions (cm):20 x 17 x 6

A perfectly pretty purple purse, featuring cheeky Kuromi in her iconic jester outfit with cute halloweeny bat wings! Picked out in pink pom poms and black glitter, this sweet little cross body bag has a chunky pearly beaded top handle and adjustable optional shoulder strap. Fully lined in orange velveteen with internal pockets and a top zip to keep everything secure!



税込価格;19,800円
サイズ (cm):20 x 17 x 6

【イレギュラーチョイスとは】
London・カーナビ―ストリートにフラッグシップショップを持つイギリスのシューズブランド。原宿店でもセレクトアイテムとして大人気!
1999年にダン・サリバンが立ち上げたイレギュラーチョイスでは、カラフルでデコラティブ・デザイン性の高いアイテムがそろっています。
6%DOKIDOKIのウェアやレッグアイテムとのコーディネートに欠かせないブランド!

【ご注意ください!】
海外輸入品につき、生産時のシミや汚れ、ほつれなどがある場合があります。
また、付属のボックスに関しましても流通の関係上多少の傷が見られる場合がございます。 予めご理解とご了承の上ご購入下さい。