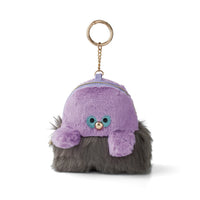 Charmy Monster Poach Friend By KAWAII COMPANY
¥2,600
Materials: Polyester, Synthetic Leather, etc.
Size (Approx. Sizes) :Length 12cm, Width 10cm (maximum), Bottom
Gusset Width 4.5cm, Chain Length 5cm, Carabiner Diameter 3cm
*For ages 6 years and over
Super KAWAII Fluffy Monster Pouch with fluffy fur and eye, and a little pointed tail in the back! It can be hung on bag handles. The inspiration of this monster motif came from the image that Sebastian Masuda had - "A strange monster that I met when I was a kid that became the basis of my heart." Put your own monster in a bag and take them everywhere you go!