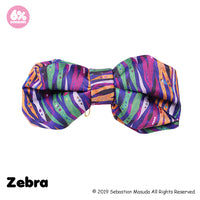 Colorful Rebellion/Animal 2-Way Super Big Ribbon Clip & Brooch
¥2,800
Material:Polyester
Dimensions(approx):
12 x 19 x 2 cm | 4.7in. x 7.5in. x 0.4in.
Make any look truly extra with these super big ribbon clip & brooches featuring playful prints from Sebastian Masuda's Colorful Rebellion/Animal series!

It was given a roundish form for a cuter aesthetic.Zebra is a bold, colorful design inspired by cybernetics and the fashion and sportswear of the '90s. Pink Leopard is the animal print for pastel lovers and a perfect complement to lolita outfits. Black Leopard is perfect for everyone especially those new to wearing animal prints.


Notice: The pattern will slightly differ in appearance due to the different cuts of the patterned fabric used, making each one extra special and one-of-a-kind!